2012 Smart College Choice Expo
Primary tabs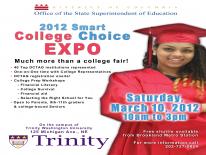 Last Date:
Location:
Trinity Washington University, 125 Michigan Avenue NE, Washington, D.C. 20017
Details:
The Office of the State Superintendent of Education (OSSE) is pleased to announce the 2012 Smart College Choice Expo. Sponsored by OSSE and in partnership with Trinity University the 2012 Smart College Choice will offer students and parents an opportunity to have "one-on-one" time with representatives of top DCTAG colleges and universities and attend workshops such as: College Section (Making the Smart Choice), College Survival and Financial Aid Literacy.
In addition, students will be able to complete their DCTAG applications at the Expo.
For more information please visit the below website or call the OSSE at (202) 727-2824.