National Training for Counselors and Mentors (NT4CM) Training
Primary tabs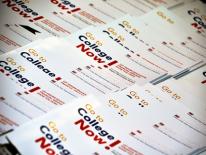 Last Date:
Location:
Register Online: http://www.fsa4counselors.ed.gov/clcf/NT4CMindex.html.
Details:
Learn About College Financial Aid From Your Desktop
Now more than ever, securing funding for a college education is important to your students. While getting funding may seem difficult, receiving the training you need to help your students get the money they need just got easier.
Help your students and get the training you need—without leaving your desk. You can now access free National Training for Counselors and Mentors (NT4CM) webinars to help students and their families prepare financially for college.
NT4CM's professional trainers provide comprehensive, up-to-date information regarding federal and state student aid programs, scholarship searches, and much more!. Attending an NT4CM training will also allow you to:
Receive free resources such as fact sheets and PowerPoint presentations to help you help your students.
Share knowledge and experiences with other counselors and mentors, as well as build connections with college financial aid professionals in your area.
Online WebEx Training Schedule
March 29th at 10:00 am – Financial Aid Overview; Including Federal, DC and Institutional Financial Aid. Click here to register.
April 5th at 10:00 am – Additional Funding – Searching for Scholarship and Avoiding Potential Scams. Click here to register.
Sponsors and Facilitators
NT4CM is sponsored by Federal Student Aid, National Association of Student Financial Aid Administrators (NASFAA), National Council of Higher Education Loan Programs (NCHELP), National Association for College Admission Counseling (NACAC), American School Counselor Association (ASCA), National College Access Network (NCAN), and Council for Opportunity in Education (COE). American Student Assistance (ASA), a nonprofit based in Boston that helps students and parents manage college student loan debt, is facilitating the NT4CM program in Massachusetts and Washington, D.C., in partnership with the Massachusetts Association of Student Financial Aid Administrators (MASFAA).
NT4CM Information
National Training for Counselors and Mentors (NT4CM)